ORLANDO, FL USA (UroToday.com) - Dr. Hak Lee reviewed data of 47 patients undergoing renal mass biopsy (RMB) prior to curative intent surgery for small cortical renal masses. 96% of patients had CT-guided biopsy, and the average mass was 3.5 cm in diameter. Pathologic diagnosis at biopsy was correct compared to final surgical pathologic diagnosis in 75% of patients, which is low compared to recent historical standards. Masses ≥ 3cm were associated with a higher rate of correct pathological diagnosis but increasing the number of 16 or 18 gauge cores did not. Grade was only 53% concordant, and there was a 26% rate of upgrading to high-grade disease. Importantly, of the indeterminate biopsy grade specimens, 53% were high grade at the time of extirpation.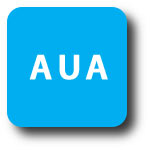 Surprisingly, there was a 23% complication rate, with a 6% major complication rate, including pneumothorax, fluid collection requiring drainage, and pseudoaneurysm.
The punch line of the study came when he described the external validation of the well-publicized Michigan management algorithm. Three of 9 patients who would have been assigned to the active surveillance cohort would have been undertreated, and 3 of 38 patients assigned to the treatment group would have been over treated were they grouped according to the Michigan algorithm. There was, however, an overall 87% rate of proper treatment group assignment, suggesting that the preoperative renal mass biopsy algorithm is an accurate way to assign treatments.
Presented by Hak Lee at the American Urological Association (AUA) Annual Meeting - May 16 - 21, 2014 - Orlando, Florida USA
San Diego, CA USA
Written by Philip Abbosh, MD, PhD, medical writer for UroToday.com