ORLANDO, FL USA (UroToday.com) - The aim of this study was to describe the impact of various stress urinary incontinence (SUI) procedures on pre-operative overactive bladder (OAB) symptoms, up to 5 years after surgery.
FREE DAILY AND WEEKLY NEWSLETTERS OFFERED BY CONTENT OF INTEREST
Did you find this article relevant? Subscribe to UroToday-GUOncToday!
The fields of GU Oncology and Urology are advancing rapidly including new treatments, enrolling clinical trials, screening and surveillance recommendations along with updated guidelines. Join us as one of our subscribers who rely on UroToday as their must-read source for the latest news and data on drugs. Sign up today for blogs, video conversations, conference highlights and abstracts from peer-review publications by disease and condition delivered to your inbox and read on the go.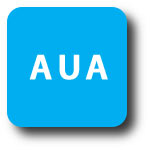 An analysis was performed of two multi-center SUI surgical trials of women with stress-predominant mixed urinary incontinence conducted by the UITN: SISTer (Burch vs autologous fascial sling) and TOMUS (retropubic vs transobturator midurethral sling). At 12 months, OAB symptom improvement was seen in 60 to 76% of women. At 5 years, there was a significant decline of OAB symptom improvement in all treatment groups, ranging from 49% to 67%. Concomitant surgery, obesity, and increased parity reduced the odds of OAB symptom improvement. Greater baseline symptom severity and women who were postmenopausal on hormone replacement therapy had increased odds of OAB symptom improvement. Variables not predictive of symptom change included pre-operative anticholinergics, urodynamic detrusor overactivity, bladder volumes at first desire, strong desire, or maximum cystometric capacity.
Although these results do not attempt to hypothesize the causality between SUI surgery and improvement in OAB symptoms, it can be concluded that most women with stress predominant mixed urinary incontinence can experience significant improvement in OAB symptoms after SUI surgery.
Presented by Halina Zyczynski, MD at the American Urological Association (AUA) Annual Meeting - May 16 - 21, 2014 - Orlando, Florida USA
University of Pittsburgh, Pittsburgh, PA USA on behalf of the Urinary Incontinence Treatment Network
Written by Lara S. MacLachlan, MD of The Medical University of South Carolina, Charleston, and medical writer for UroToday.com