ORLANDO, FL USA (UroToday.com) - Percutaneous renal access can be challenging in complex cases with large stone burden (i.e., staghorn calculi) or a special kidney anatomy. The study group presented a case of an 50-year-old male with a right partial staghorn and proximal ureteric stone, undergoing percutaneous access for PCNL, using the novel Uro Dyna-CT (Siemens Healthcare Solutions, Germany), for high-quality 3-dimensional real-time imaging.
FREE DAILY AND WEEKLY NEWSLETTERS OFFERED BY CONTENT OF INTEREST
Did you find this article relevant? Subscribe to UroToday-GUOncToday!
The fields of GU Oncology and Urology are advancing rapidly including new treatments, enrolling clinical trials, screening and surveillance recommendations along with updated guidelines. Join us as one of our subscribers who rely on UroToday as their must-read source for the latest news and data on drugs. Sign up today for blogs, video conversations, conference highlights and abstracts from peer-review publications by disease and condition delivered to your inbox and read on the go.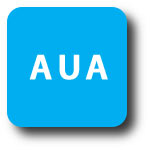 The patient was referred to radiology for pre-op percutaneous renal access. After two unsuccessful attempts for upper/middle pole NT placement due to plural reflection and overlying lifer a, Uro Dyna-CT was performed. This novel technique correlates real-time fluoroscopic imaging to a simultaneous on-table axial CT scan. By delineating a safe window, right middle-pole access could be gained.
The authors concluded that in select patients, the Uro Dyna-CT adds simultaneous detailed anatomic imaging to fluoroscopic renal access to improve successful puncture, and reduce potential morbidities.
Presented by Shubha De, MD at the American Urological Association (AUA) Annual Meeting - May 16 - 21, 2014 - Orlando, Florida USA
Cleveland Clinic, Cleveland, OH USA
Written by Achim Lusch, MD, University of California (Irvine), and medical writer for UroToday.com