ORLANDO, FL USA (UroToday.com) - Presented by Jack Cuzick, Steven Stone, Zi Hua Yang, Julia Reid, Gabrielle Fisher, Daniel Berney, Luis Beltran, Henrik Moller, David Greenberg, Michael Brawer, Alexander Gutin, Jerry Lanchbury, and Peter Scardino at the American Urological Association (AUA) Annual Meeting - May 16 - 21, 2014 - Orlando, Florida USA
FREE DAILY AND WEEKLY NEWSLETTERS OFFERED BY CONTENT OF INTEREST
Did you find this article relevant? Subscribe to UroToday-GUOncToday!
The fields of GU Oncology and Urology are advancing rapidly including new treatments, enrolling clinical trials, screening and surveillance recommendations along with updated guidelines. Join us as one of our subscribers who rely on UroToday as their must-read source for the latest news and data on drugs. Sign up today for blogs, video conversations, conference highlights and abstracts from peer-review publications by disease and condition delivered to your inbox and read on the go.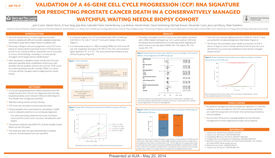 Center for Cancer Prevention, Wolfson Institute of Preventive Medicine; Myriad Genetics, Inc.; Department of Molecular Oncology, Barts Cancer Institute; King's College London, Thames Cancer Registry; Eastern Cancer Registration and Information Centre (ECRIC) Unit C; Department of Urology, Memorial Sloan-Kettering Cancer Center
Click HERE to listen to Peter Scardino, MD, FACS discuss the study.
Click HERE to read an exclusive report by a UroToday medical writer.