ORLANDO, FL USA (UroToday.com) - During the "Advanced Prostate Cancer II" session, Dr. Matthew Cooperberg presented data from PROCEED, an ongoing Phase 4 registry of patients with metastatic castration-resistant prostate cancer (mCRPC) treated with sipuleucel-T (ST). ST is an immunotherapy that targets prostatic acid phosphatase. While PROCEED is ongoing, baseline demographics and treatment practice patterns were reported. Data from approximately 1 400 patients was included. The majority of patients were Caucasian (87.6%) with a median age of 72 years. Median baseline PSA was 16.1 ng/mL, and 49.9% of patients had Gleason ≥ 8 disease.
FREE DAILY AND WEEKLY NEWSLETTERS OFFERED BY CONTENT OF INTEREST
Did you find this article relevant? Subscribe to UroToday-GUOncToday!
The fields of GU Oncology and Urology are advancing rapidly including new treatments, enrolling clinical trials, screening and surveillance recommendations along with updated guidelines. Join us as one of our subscribers who rely on UroToday as their must-read source for the latest news and data on drugs. Sign up today for blogs, video conversations, conference highlights and abstracts from peer-review publications by disease and condition delivered to your inbox and read on the go.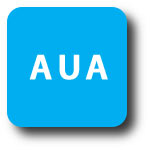 Close to three-quarters of patients underwent local therapy, the majority with radiation (56.9%) or radical prostatectomy (35.8%). Fifteen percent of patients received prior chemotherapy (12.4% docetaxel). Patients treated in oncology practices more commonly received prior oral anti-androgen (67%) and chemotherapy (19%) compared to patients treated in urology practices (41.7% and 5.9%, respectively). The preliminary data from PROCEED provides a window into current treatment patterns for mCRPC. Dr. Cooperberg concluded that PROCEED will continue to provide useful information for tracking practice patterns and care trends for men with mCRPC prior and subsequent to treatment with ST.
Click HERE to view the poster from this session
Presented by Matthew Cooperberg, MD, MPH at the American Urological Association (AUA) Annual Meeting - May 16 - 21, 2014 - Orlando, Florida USA
University of California, San Francisco USA
Written by Jeffrey J. Tomaszewski, MD, medical writer for UroToday.com